As the title suggests, we will cover how to activate a Qlink SIM card today. We have structured the article in a question-answer manner to provide you with the most on-point instructions and guidance.
Simple go through the questions below and stop at those that relate to your situation.
So, are you ready to dig in? Let's do this.
What Do I Need Before Activating a Qlink SIM Card?
As you probably know, Qlink is fully focused on providing services to Lifeline eligible customers. With that said, in order to make use of Qlink, you'll need to ensure that you qualify for the Lifeline support.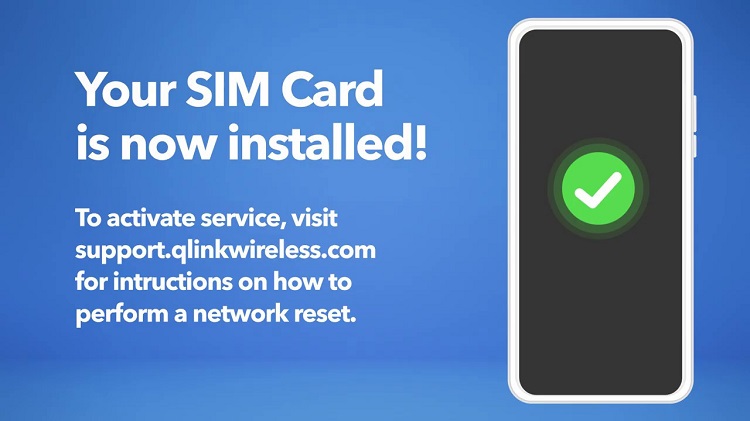 Only after your application has been accepted and you've provided sufficient proof (income eligibility or program-participation eligibility) will you be able to attain a Qlink SIM card and use it either with your existing phone or Qlink's one.
Here's the sum-up of what you need:
Make sure you are eligible for Lifeline Assistance.
Apply (either via National Verification or via Qlink).
If approved, you'll be provided with a SIM kit.
How Do I Activate My Qlink SIM Card?
Once you've met all the prerequisites and have a SIM card at your disposal, follow the steps below to complete the activation. Make sure you have your smartphone and SIM Card Kit ready.
Insert Your SIM Card – You need to physically insert your Qlink SIM card into your phone.

If you are using your existing phone, you may also need to remove your old SIM card first. The exact location of the SIM card slot varies from phone to phone. If you have an older model, you will probably find it under the removable battery, however, in the case of newer phones, the SIM card slot will be located somewhere along the edge of the phone. In case of the latter, you'll need to use a SIM slot opening tool (a paperclip will also do the trick).
Make sure to use the appropriate SIM card adaptor. Also pay attention to the SIM card's corner cut, which will help you to position it properly.

Reset Your Network – Below is the process for iPhones and Androids.

Androids:

Go to Settings and scroll down and tap Reset or Network Reset Settings.
Tap Network Reset and follow the prompts.
Wait for the phone to complete the reset process.

iPhones:

Go to Settings and tap General then scroll down and tap Reset and select Reset Network Settings.
Enter your iPhone password (if prompted) and confirm the reset.
Wait for the phone to complete the reset process.

Transfer Your Number – This step applies only to users that have an existing phone number and would like to port it into their Qlink SIM card.

To transfer your number, complete your activation and begin your number transfer by calling 1 (305) 260-6232.
In order to speed up the process, make sure to have the account number and PIN from your current carrier (the one you are transferring your number from) ready.

Optional (Recommended): Download the App

Qlink suggests you get the My Mobile Account App, which enables you to manage your account. Simply download the My Mobile Account App from the Android Google Play Store or iPhone App Store and follow all prompts. Then, log in using your Q Link phone number. You can also manage your account by visiting qlinkwireless.com/login
How Do I Reactivate My Old Qlink SIM Card?
Reactivating your old Qlink SIM card is not much different than activating a new Qlink SIM card. You also need to be eligible for Lifeline support and have a compatible phone at hand. If all this is in order, you may try the steps above.
However, there may be some complications when trying to activate an inactive SIM card, so we do recommend calling Qlink support at 1(888) 505-7678 and asking for assistance.
Can You Reactivate a Deactivated Qlink SIM Card?
The exact answer will depend on the reasons behind your deactivation. If you are trying to reactivate a deactivated Qlink SIM card, we strongly suggest you call their support at 1(888) 505-7678.
Here is a paragraph from Qlinks Term and Conditions that should provide you with additional information regarding the reactivation of a deactivated Qlink SIM card: "If your service is deactivated for Non-Usage or failure to complete Annual Recertification, you may reactivate your service by either re-enrolling in the Q LINK Wireless Lifeline Program (if eligible) or purchasing and redeeming Q LINK Wireless minutes with service days.
In case you also need information Qlink SIM Card Replacement Guide
Can I Put My Qlink SIM Card in Another Phone?
Yes, you may use a Qlink SIM card with other phones as they have a 'Bring Your Own Phone' (BYOP) program set in place.
However, in order to ensure that the SIM card will be properly functioning with your phone, you need to check the compatibility in advance.
To do so, visit Qlink's official website, hover over the 'Shop' option in the main menu and click the 'Bring Your Own Phone'. On the next page, simply follow the on-site instructions, where you will need to enter your phone's IMEI number.
Read one of our past articles How To Transfer QLink SIM Card To New Phone
How Do I Activate a SIM Card in Another Phone?
As long as you have a compatible phone at your disposal, the SIM card activation process is always the same (please refer to the 'How do I activate my Qlink SIM card?' section above).
Moreover, keep in mind that you only need to activate your SIM card once (assuming you retain your account active). This means that if you decide to move your SIM card from one compatible phone to another, the activation process is not required.
How Long Does it Take to Activate a Qlink SIM Card?
The activation process is very fast. Following the step provided in the 'How do I activate my Qlink SIM card?' section above, you can finish it in minutes.
The only aspect that can take a couple of days in some cases is the number transfer.
How Do I Know If My Qlink SIM Card is Active?
If you are able to take and make calls, your SIM card is active and ready to use. If you are not sure, you can always call Qlink's support at 1(888) 505-7678 and ask them about your SIM card status.
Why Does My Qlink SIM Card Not Work After Activation?
If you've ensured you had all the necessary prerequisites checked and have completed the activation process properly but your SIM doesn't work, there could be a number of reasons.
If you are facing these problems, make sure to call Qlink's support at 1(888) 505-7678 ASAP and they will help you solve the problem.
How Do I Fix My SIM Card Not Detected?
If you get the 'SIM card not detected' message it usually indicates that a SIM card hasn't been properly inserted. Make sure to check that. You may use step 1 from the 'How do I activate my Qlink SIM card?' section above.
What Phone Carriers are Compatible with Qlink SIM Cards?
If you've covered the above sections, you know that Qlink offers a Bring Your Own Phone option, which means that any compatible phone may be used with a Qlink SIM card.
Generally speaking, any unlocked phone that uses a SIM card to operate has the potential of being compatible. Even some SIM-less phones may work with the Qlink service. There is no particular carrier-related limitation.
How to Cancel Qlink Wireless Service?
If you want to cancel Qlink wireless service, call their customer support at 1-855-754-6543 or 1(888) 505-7678.
Wrapping Things Up
We did our best to provide you with all the details that will help you with your 'How do I activate my Qlink SIM card?' question.
Simply use the answers provided thorough out the article and enjoy your Qlink services. In case you have any further questions and need special assistance, make sure to call Qlink's support.
You can read one of our past articles Government Free Phone