Smartphones are now flooding the market and we all know they are way beyond talk and text only phones. However, back in the 90s all phones we limited to these two features. Sure some had other practical options, such as alarms, calendars, and some basic games, however, each of those was a cell phone without internet.
In today's article, you will learn if there is a phone that only texts and calls available and other useful details that should be of interest to those looking for simplicity and a cell phone without internet.
Is There A Phone That Only Texts And Calls?
As mentioned, in the past there were many phones that offered only these two basic features, as such, you can always find one of these models and try reactivating them. However, these phones are over 20 years old, so that is not a valid option.
If you want to find talk and text phones in 2020, you will have to look for a basic phone. Yes, that is the term that is used these days. Basic phones are not smartphones that is why they are also known as "dumb" phones. These types of phones do not come with touch screens and incorporate very basic and essential features.
Flip phones are the most popular types of basic phones, mainly due to their compactness and practically – open the two halves of the phone to answer a call and close them to end it – it doesn't get simpler than that.
However, since in 2020 even seniors and kinds, which are two populations that predominantly use the basic phone, also tend to want some advanced features, even basic phones and flip phones these days often come as 4G-supported, which means you can get online with them as well.
Given the above, the best way to completely eliminate online access is to get a package from a wireless provider (prepaid options tend to be the best choice for that) that only includes texts and calls.
Alternatively, you can turn any phone (even a smartphone) into a talk and text only phone and definitely into a cell phone without internet. To do so, you must turn off the mobile data and also disable WiFi connection if available on your phone.
What Is The Best Talk And Text Only Phone?
In one of the following sections, we will take a closer look at several best talk and text only phones. But in this section, we want to take a more general approach. There is no one exact model of a cell phone without internet, however, there are some aspects that the best talk and text only phones should cover and this is what we will talk about herein.
The main aspects that proper cell phone without internet should cover:
Simplicity – for users that look for talk and text only phones, simplicity is extremely important. The phone should make calling and texting as straight forward as possible. Menu navigation should be simple and easy to navigate.
Compactness – user of talk and text only phones also commonly prefer their devices to be as compact as possible. As mentioned above, the main users are seniors and kids, which both tend to devote less attention to the cell phone. As such, the best cell phone without internet should be resistant to accidental drops and sit-ons. It should also come in perfect pocket size to fit various pockets with ease.
Affordability – since talk and text only phones are all about simplicity, it is only natural that they should be highly affordable.
Large Display – since seniors are the ones most commonly using talk and text only phones, they should have reasonably large displays or at least large enough fonts. The display should also be bright enough for proper use in the sunlight.
Large Keypad – for the same reason as above, the best talk and text only phones should also have a large and easy-to-use keypad.
Long Battery Life – Since a phone can easily be charged every night, this may not be essential, however, it is a good-to-have feature in the best talk and text only phones. That way a phone needs to be charged only twice or even once a week (it depends on the user's frequency of use, calls length, etc.)
The list of above qualities is something the best talk and text only phones should incorporate.
How to Get a Cell Phone Without Internet Access
Now that you know what to look for in a cell phone without internet access, it is time to learn where to look for the talk and text only phones.
First, you will need to decide, whether you want a basic phone or a smartphone (on which you will enable connectivity options). Then you must decide, whether you want a new phone or would you be willing to go with a used or refurbished one.
Good places to get a cell phone without internet access are:
Amazon
eBay
Prepaid wireless providers
Local phone dealers
Asking your family and friend if they happen to have any of their older cell phones
Pawnshops
Electronics shops
If you are eligible, apply for a government cell phone (mention that you want a basic phone)
Buy a low-cost burner phone
You can even ask your existing provider to opt-out of mobile data on your existing service package.
7 Best Talk and Text Only Phones
By this point, you are definitely ready to learn about 7 best talk and text only phones. Each of the models we chose and are presented below, has its own advantages and disadvantages, as such, you will need to decide which features and properties are most important for you, your parents, or your children. Moreover, keep in mind that each of the models presented below has what it takes to be the best cell phone without internet. Let's dig in.
Mosthink Unlocked
Mosthink unlocked is one of the best phones for those looking for simplicity. It comes with the most basic features, a large keypad, and a bright large-font display. It also packs an SOS button, which can be a true lifesaver. The button serves as an SOS speed dial – when pressed down for 5 seconds, it dials a pre-entered emergency phone number (this can be a relative's number or any other number).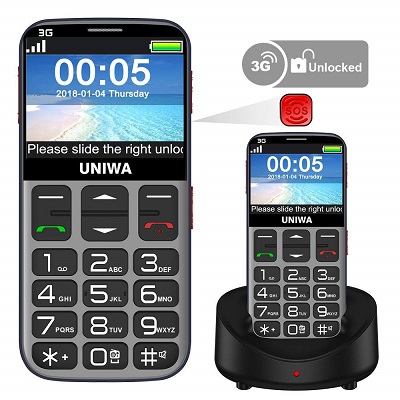 Mosthink has a relatively powerful battery (1400 mAh) that is able to go on for 10 days on standby. It also comes with a special stand for charging, which can be practical for seniors in particular.
The phone comes unlocked and may as such be used with most wireless providers (the compatibility should be checked before deciding for a particular provider).
The best place to get the Mosthink Unlocked is Amazon.
PROS
SOS button
Large and well-separated keys
Clear sound system
Extremely user-friendly menu and interface
Extremely user-friendly menu and interface
CONS
The charging stand must be purchased separately
It could be cheaper
Kyocera Dura XV LTE
The 'LTE' in the name of this talk and text only phones already tells you that it operates on a 4G LTE network, which means it is capable of getting you online. However, this can be disabled via any of the methods described in the previous sections.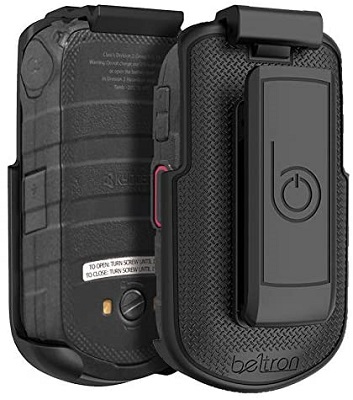 The best thing about the Kyocera Dura XV LTE is its durability. This flip phone is built for extra tough conditions. As such, it is also a great cell phone without internet option for all heavy-duty workers, first responders, and everyone who wants to be care-free. It survives drops, water, dust, and more.
The phone comes with an outer display that shows time and date and basic notifications. Its simplicity may not be at a high level as of the above-presented model, however, like a flip phone, it provides you with ease of use.
The best place to get this phone is Verizon.
PROS
Extremely rugged
Waterproof
You can block the internet with ease
Flip phone functionality
Compact size
Clear sound system
Solid battery
CONS
It might be too pricey for some users
Nokia 3310
Nokia 3310 is another cell phone without internet that deserves a spot among the best talk and text only phones. It is a 3G-based phone, which means that it can connect online (at limited speeds), however, this can easily be disabled.
Nokia 3310 is a basic phone that offers a very high level of simplicity. It comes with a large, bright display and easy to navigate keypad and menu.
Most users that decide to go for this phone mainly focus on texting and calling, however, it offers some additional features that may come in handy. This includes Bluetooth connectivity, FM radio, an MP3 music player, a simple calculator, a calendar, some fun games, and a 2MP camera. All of which can be completely ignored if not of interest.
PROS
Comes in various colors
Highly affordable
Easy to use
It has music and games, which can be good entertainment for kids
Bright and large display
Well separated keys
CONS
If you plan on snapping photos you are limited by small internal storage
as it has no micro SD card slot.
Alcatel Cingular Flip 2
The Alcatel Cingular Flip 2 is another great flip phone. However, you should know that is a newer flip phone, which means that offers many advanced features, including internet access options as it operates on the LTE networks. However, all these features can be ignored and internet access disabled if you are into maximum simplicity.
The phone is of compact size and fits all pockets with ease. It offers two displays (outer for basic notifications). We recommend you to go for the unlocked version, so you may use it with any post or prepaid wireless plan of your choice.
The phone packs very good loudspeakers, a large keypad, a solid battery (1350mAh), and offers easy to navigate the menu. All this makes it suitable for those looking for maximum simplicity as well as those looking to stay fully connected, yet want to avoid smartphones.
PROS
Comes with flip phone functioning
Highly affordable
Offer solid calls quality
Packs powerful loudspeaker
Solid battery
Large keypad
Many advanced options are available
CONS
The volume key is not well protected and as such often pressed accidentally when the phone is in a pocket
BLU Tank II T193
Blu Tank II T193 is another basic cell phone. It mainly prides on a powerful 1900 mAh battery that easily lasts for several days.
It offers an easy-to-navigate keypad and menu. The display is large enough and also bright to be easily used in any light conditions.
The phone is also extra durable and resistant to drops, which is another major plus side. The phone has one of the loudest speakers too.
We must note that the phone operates on a 2G network, which is being put out of use by many leading carriers. So make sure to find a carrier that you will be able to use this phone with before making the purchase.
We recommend using it with the T-Mobile Go SIM card for extra affordability.
PROS
Highly affordable
Durable and withstands harsh impacts
High-quality calls
Very strong loudspeakers
Impressive battery
CONS
It does not include WiFi connectivity
Snapfon ezTWO
Snapfon ezTWO is another great option. It is very popular among seniors looking for maximum simplicity and ease of use. The fact that the phone is hearing aid compatible has a lot to do with that.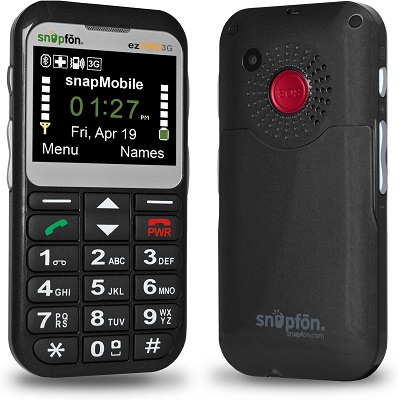 The phone comes unlocked which means that it can be used with any provider you want (make sure to check compatibility first). The Snapfon ezTWO offers very large keys and a solid-size display for easy navigation and texting.
The phone has an amazing feature that makes menu navigation as simple as possible- it comes with a speaking keypad. The phone also includes enhanced volume, keypad lock side switch, and an SOS button, which can make a difference between life and death.
The battery on this phone is not impressive, yet still good enough to last the full day. The phone is made of sturdy plastic, which means it is not too fragile.
PROS
Very easy to use
Fast processing speed
Large keypad buttons
It comes with a Micro SD card slot
It even has a solid camera
SOS button
Hearing Aid Compatibility
CONS
Not as affordable as some other options
The battery could be better
Samsung Convoy 3
The Samsung Convoy 3 is another extra rugged and tough flip phone. This makes it a perfect choice for all users that want to be care-free and never worry about dropping their phones as it even survives being dropped in a shallow puddle. This feature also makes it great for people who enjoy outdoor activities and all other users that tend to spend a lot of time in tough environments.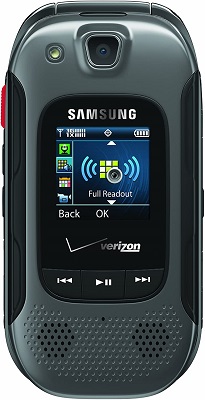 Aside from military specs, the phone comes with several advanced features, which can be ignored and even turned off by those focused on simplicity. The phone also has a push-to-talk button, which makes conversing possible with just a touch of the button.
The phone also comes with a solid basic camera and a microSD card slot. It has a good battery life and packs a double microphone to capture your voice with ease even in a louder environment. On top, it packs a surrounding noise cancellation technology.
The best place to get Samsung Convoy 3 is Amazon.
PROS
Surrounding noise-canceling technology incorporated
Comes with some advanced features
Packs a solid camera
Extremely tough and rugged
Push-to-talk button
Extremely affordable
CONS
Some other models have larger keypads for easier navigation of the menu
How To Transfer Data Between Two Phones Without An Internet Connection?
This process depends on the type of phones you use. If you are using smartphones or basic phones that enable you to be connected to a laptop or PC via USB, then you can transfer data to the computer and then to another phone.
If phones have external memory card slots (microSD), you can store all data on it and simply transfer the card from one phone to another.
If both phones have Bluetooth connectivity, you can transfer data by pairing the two phones. This is not suitable for larger amounts of data.
If you have very basic phones, those do not store much else than contacts. Contacts can be all stored on a SIM card and then transferred to another phone by physically switching the SIM card to the second phone.
FAQs
What is the most basic cell phone?
By definition, the most basic cell phone would enable you to make and receive calls and send/receive texts. However, these days even the most basic phones have some additional functions. Looking at the list of basic phones presented above will get you're a good sense of what are some of the best options of talk and text-only phones these days. If you want to know about basic cell phone visit Best Sprint basic phone
Who has the best talk and text plan?
Republic Wireless, Project Fi, Tracfone, and Consumer Cellular are the best option. However, there are many other affordable choices.
Can I use GPS without an internet connection?
Yes, GPS is a satellite-based function that has nothing to do with the internet. So if your phone has GPS, you should be able to use it without the internet, however, the app must be such that work only with GPS connection.
Can I turn my smartphone into a dumbphone?
One of the main trades of a "dumb" phone is a physical keypad, thus you cannot turn your smartphone into a dumb phone. However, by disabling mobile data and WiFi connection and choosing the simplified mode of operation, it can be "dumbed down". There are also various apps that may be used to access only the basic phone-like features on your smartphone.
How can I chat without the internet?
Chatting via a standard call or text are the only two options if you do not have an internet connection on your phone (neither WiFi nor mobile data).