Have you heard of 'Obama phone' before? How about 'free government cell phones'? Free cell phones for seniors on Medicare fall into that same category.
In today's article, we will go into details, which will help you, either directly if you are a senior on Medicare directly or indirectly if you are a friend, family member, or a caregiver of a senior on Medicare.
We will start with the basics to make sure we are all up to speed. Then we will take a closer look at free cell phones for seniors on Medicare, which will include a closer look at some of the most popular cell phone providers that offer free cell phones for seniors on Medicare and also naming some of the great phone models most suitable for seniors.
In addition, we will also answer some of the most frequently asked questions, which should assist you further in obtaining free cell phones for seniors on Medicare.
So, are you ready to dig deeper? Let's do this.
How Do I Get Free Cell Phones For Seniors On Medicare?
In this section, we will provide you with all the information you need in order to get a free cell phone for seniors on Medicare. However, before we go into details about the qualification and application process, we need to cover the basics and clear a common confusion.
There Are No General Programs That Offer Seniors Free Phones
We are not sure where, when, and how exactly the 'free government cell phones for seniors' search term started and got so popular. Perhaps certain local programs in the past contributed to that.
First, you must ask yourself why a government would give someone a FREE phone. Well, the most logical reason for someone to get a free phone is if they cannot easily afford it. Makes sense, right? Why would a senior or any other person financially more than capable of purchasing their own phone be eligible for a free government phone, right?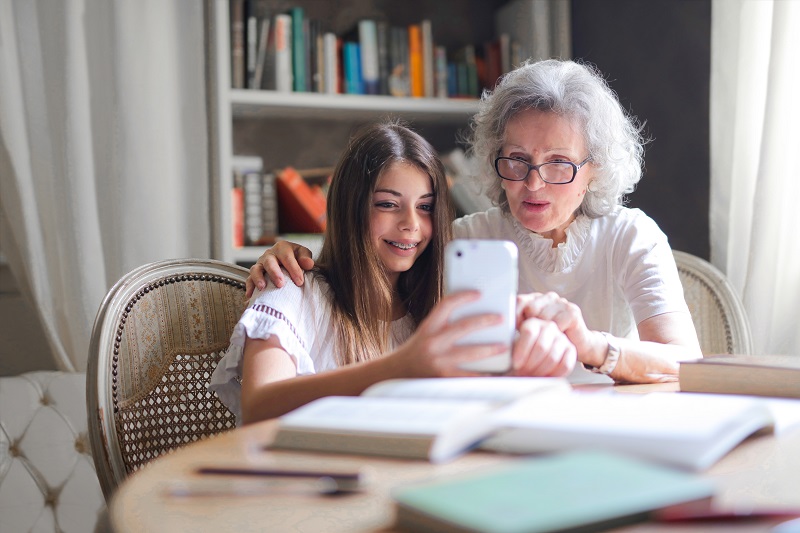 That said, we can all probably agree that income is the only aspect that should contribute to whether someone is or is not entitled to a free phone. As such, seniors (based on their age set at 65) are not entitled to attaining free government phones unless they meet the same requirements as people of all other ages.
And since Medicare is based solely on age (more about the program itself in the section 'Difference Between Medicaid and Medicare' below). It doesn't qualify seniors for free phones.
In order for seniors on Medicare to obtain a free government phone, they must also have a low income or participate in certain federal assistance programs (Medicare IS NOT ONE OF THOSE PROGRAMS).
As an alternative to free government phones, there are special deals offered by certain carriers from time to time that can include free phones. Those types of deals have usually nothing to do with Medicare nor seniors in general but are typically intended for all users switching to that carrier (new customers) who are willing to sign up for a specific plan. That is something seniors can also explore and thus attain a free cell phone (the device itself), however, airtime/monthly plan will not be free of charge in that case.
Lifeline Assistance For Free Government Phones
When anybody refers to Obama phones or free government phones for seniors, they all have Lifeline in mind. Lifeline Assistance is the government-supported program that helps those who are facing financial challenges attain telecommunication services (wireless services, internet services, or landline) at discounted rates.
In general, Lifeline Assistance offers a $9.25 assistance towards the monthly bill of the chosen telecommunication service (only one of the above listed can be discounted at the time). However, when it comes to wireless services, many carriers have specialized in serving solely Lifeline qualified users and thus decided to offer additional benefits, which now enables Lifeline eligible households to attain free mobile devices and even free monthly plans.
Free Cell Phones For Seniors On Medicare – Qualifying
If you read the above sections, you already know that Medicare doesn't qualify seniors for free phones. In order to qualify for free government phone, seniors must either be a part of a household that has an income of 135% or below the national poverty guideline. For the exact and current numbers, visit lifelinesupport.org.
As an alternative to qualifying based on income, a household can also qualify based on participation in one of the federal assistance programs listed below:
Supplemental Nutrition Assistance Program (SNAP), formerly known as Food Stamps
Medicaid
Supplemental Security Income (SSI)
Federal Public Housing Assistance (FPHA)
Veterans Pension and Survivors Benefit
Tribal Programs (and live on federally-recognized Tribal lands):

Bureau of Indian Affairs General Assistance

Head Start (only households meeting the income qualifying standard)

Tribal Temporary Assistance for Needy Families (Tribal TANF)

Food Distribution Program on Indian Reservations
Free Cell Phones For Seniors On Medicare – The Application Process
Once you have checked the previous section and ensured that you qualify, it is time to take the next step and actually initiate the application process.
There are two general ways to go around this:
You can apply directly with the Lifeline Support organization (either online or via mail) and then enroll with a carrier of your choice available in your local area. (RECOMMENDED).
OR
You can go directly to a carrier that offers Lifeline Assistance in your area and apply through them. Keep in mind that this option will often redirect you to the same path as the 1.) above. Most carriers also give you the option of either applying online or via standard mail.
Since we recommend option1.), we are providing you with details for applying either online or by mail directly with Lifeline Support:
The first part – Applying:
Applying online via Lifeline National Verifier: Make sure you have scans or digital photos of required documents ready (identity proof, address proof, income or program participation proof (proof of eligibility))

Click the 'Get Started' button

Follow the on-screen instruction and fill out the online form

Applying via standard mail: Make sure you have physical photocopies of the required document ready (identity proof, address proof, income or program participation proof (proof of eligibility))

Print out the Lifeline application form:

Fill in the application form

Send the application form together with the copies of required documents to Lifeline Support Center, P.O. Box 7081, London, KY 40742
The second part – Enrolling:
After your application has been processed and approved, you need to find a local wireless provider that offers Lifeline support. You can use this online tool for that purpose: data.usac.org. Just enter your zip code or city and state and click the 'Search' button.
Follow the above steps and get a free cell phone for seniors on Medicare or any other household that meet the above requirements.
Read More Free phone Related Post
Free Government Phones By State
Free Home Phone Service for People on Food Stamps
Best Free Government Cell Phone
Free Government Phone Stands Near Me
5 Top Cell Phone Companies That Provide Free Cell Phones For Seniors On Medicare
In this section, we will take a closer look at the 5 top cell phone companies that offer Lifeline Assistance. Keep in mind that unfortunately there is no Lifeline provider that would operate in all states. As such, your choices will greatly depend on your location. In some areas, there are more than a dozen wireless carriers offering free Lifeline plans, while there might only be a single one in others.
Note: Unfortunately, there may also be specific remote areas, where no Lifeline carrier is available.
We have focused solely on wireless companies that offer not only free plans but also free devices.
American Assistance – Top option for California
American Assistance is also known as American Broadband and Telecommunication. It is a popular and reputable wireless provider that offers free cell phones and smartphones to eligible candidates.
American Assistance is the best choice for California citizens, where they get free devices, free unlimited voice & text, and 6GB of data.
Their deal in other states is less generous Lately they've started offering a Co-Pay plan that runs at $14.95/mo. and included a free smartphone, 500 voice minutes, unlimited texts, and 4.5GB of mobile data.
American Assistance services clients in various regions, including Arizona, Arkansas, California, Colorado, Georgia, Hawaii, Illinois, Indiana, Kentucky, Maryland, Michigan, Minnesota, Nevada, Ohio, Pennsylvania, Puerto Rico, Rhode Island, South Carolina, Utah, West Virginia, and Wisconsin.
Assurance Wireless
Assurance Wireless is another carrier that deserves to be on our list. Assurance Wireless is a federal Lifeline Assistance program and provides eligible low-income free monthly data, unlimited texting, and free monthly minutes. Plus a free phone.
The exact monthly benefits vary from area to area (especially mobile data), however, in most states you get unlimited texts, 1000 voice minutes, and 3GB of data.
Assurance Wireless services residents of Alabama, Arkansas, California, Connecticut, Delaware, District of Columbia, Florida, Georgia, Idaho, Indiana, Iowa, Kansas, Kentucky, Louisiana, Maine, Maryland, Massachusetts, Michigan, Minnesota, Mississippi, New Hampshire, New Jersey, New York, North Carolina, Ohio, Oregon, Pennsylvania, Rhode Island, South Carolina, Tennessee, Texas, Utah, Virginia, Washington, Wisconsin, and West Virginia. Visit their website and enter your zip code to check the availability in your area.
Infiniti Mobile
Infiniti Mobile is without a doubt another mention-worthy wireless company that services subscribers of Lifeline programs in various states and regions.
Those eligible for Lifeline services provided by the company will get free government phones, up to 1000 minutes of talk time, unlimited text messaging, and 1GB of data.
Here are some of the states with excellent reception: South Carolina, Georgia, Nevada, Maryland, Wisconsin, and Vermont.
Moreover, Indian Americans who qualify for the company's services benefit from an extended data plan that includes 2GB of data. Infiniti Mobile offers those who need extra call minutes and data to purchase add-ons.
Assist Wireless
Assist Wireless is offering its services to the residents of Oklahoma, Maryland, Arkansas, and Missouri. They offer free phones and free plans that come in form of tribal and non-tribal versions.
The plans from Assist Wireless are not equal for all states. For instance, in Missouri, Maryland, and Arkansas, the free plan includes 1000 minutes, 500 texts, and 50MB of data. However, they have also paid (highly discounted plans for Lifeline qualifiers).
In Oklahoma, the non-tribal plan matches the one described above, however, the Oklahoma tribal plan comes with way more benefits. It includes unlimited talk, unlimited text, and 4.5GB of data.
As such, Assist Wireless remains one of the best options for tribal Lifeline qualifiers.
Qlink Wireless
Q Link Wireless is one of America's fastest-growing Lifeline service providers. The company provides free cell phone service with free monthly data, minutes, and unlimited texting; to tens of millions of low-income Americans. Customers choose from various free monthly minute plans. Cell phone service includes nationwide coverage and the ability to call nationally or internationally. Subscribers enjoy no monthly bills, no fees, no credit checks, no surcharges, and no contracts. The company also offers affordably prepaid wireless cell phone service, for Lifeline and non-Lifeline subscribers.
Qlink Wireless offers provides some of the best smartphones that have additional unlimited texts and unlimited call minutes and 3GB of mobile data.
Qlink is mainly used in Vermont, Oklahoma, Georgia, Indiana, Maine, Missouri, and Ohio. They also have a referral program via which customers who refer friends get 100 minutes bonus free minutes. Qlink also has various phone upgrades for those willing to advance with their services.
Top Free Cell Phones For Senior On Medicare
Before we discuss the exact phone models any further, you should know that when it comes to free phones provided by carriers offering Lifeline Assistance, those phones cannot be chosen by customers. It is up to the provider to give you the phone that is currently in their stock.
That said, some carriers have a single model at the time, while others have several options. Almost all carriers these days offer free entry-level smartphones as part of their Lifeline support offer. However, many also have basic or flip phones available, which can be also attained via Lifeline plan.
Our advice:
Most seniors prefer simplicity, as such, we highly recommend flip phones for seniors. As mentioned above, you cannot choose a specific device, however, at the time of application submission/enrollment, you may express that you prefer to use a flip phone. In most cases, your wish will be taken into consideration, and if possible, it will also be fulfilled. Thus, make sure to tell your provider that you want a flip phone, of course, if that is really the case.
Here are some of the best smartphones that a Lifeline applicant may get for free: Nokia 6.1, LG V50 ThinQ, Google Pixel 3a, Motorola Moto G6, and Samsung Galaxy S10.
Alternative Options
In case you do not qualify for Lifeline Assistance, you can still get a free phone. With some luck or should we say proper timing, you can get a solid mid-range or even top-range smartphone for free. All you have to do is find a carrier that offers free phones to those switching to their service. Most popular carriers have these sort of offers set in place.
We would like to point out Metro by T-Mobile, which offers various great free phones for those taking on their unlimited plan that runs at $40/mo. Some of the free phones offered by Metro by T-Mobile include LG Stylo™ 6, Samsung Galaxy A21, moto g stylus, LG K51, Samsung Galaxy A11, iPhone 7, Samsung Galaxy A20, just to name a few.
Are Non-citizens Seniors On Medicare Eligible For A Free Phone?
By this point you know that Medicare does not give you access to free phones, however, you also know that Lifeline does.
Lifeline is available to all eligible residents, including non-citizens that have a permanent or temporary address in the USA. Permanent USA citizenship is not required to obtain Lifeline support.
Difference Between Medicaid and Medicare
Since there are so many people confusing Medicaid and Medicare we really felt obligated to include this section in the article. Herein, you will learn the differences between the two medical support programs once and for good.
What is Medicaid?
Medicaid is a state and federal program that provides health coverage for those with a very low income. Medicaid is income-based.
What is Medicare?
Medicare is a federal program that provides health coverage for people older than 65 or for those under 65 that have a disability. Medicare is not income-based.
Looking at the above definitions, we can now see that Medicare has nothing to do with income and is as such not related to Lifeline Assistance. On the other hand, Medicaid is income-based, which is why it is one of the programs that participate in makes you eligible for the Lifeline support.
We hope that clarifies the whole confusion between the two federal programs.
Final Thoughts
If you've read the article, you now know that free cell phones for seniors on Medicare do not exist in general since Medicare isn't an income-based program and as such does not qualify you for Lifeline Assistance, which is the program that can get you a free government phone.
However, you've also learned that seniors on Medicare can still apply for the Lifeline support along the standard eligibility lines and thus obtain a free phone.
As an alternative to Lifeline-based free phones, free cell phones for seniors on Medicare can be obtained via special deals offered by many wireless carriers.
Stay safe!