Communication and wireless devices such as smartphones, tablets, and laptops are a must in the 21st century. We all rely on these portable devices for communication, acquiring information, work, education, and a lot more. While these devices get cheaper each year, the prices are still way too high for some people to afford. Now, how can a person from a low-income family get a tablet, for example, which is considered one of the most practical wireless devices? Is it possible to get a tablet for free? Yes, it is! For one, the government offers free tablets to low-income families and students. In addition, there are also some charities and non-profit organizations that give out free tablets to people who cannot afford to buy one. In this article, you can find out all there is to know about free tablets from the government and other ways to get a free tablet.
Ways To Get A Free Tablet
For low-income people, there are two main ways to get a free tablet – from the government or a charity/non-profit organization.
Free Tablet From Government
Low-income families and students may get a free government tablet by simply filling out an application form and meeting the eligibility requirements. If the person is considered eligible and can pass the screening process, he or she will receive a free tablet. However, the rules are pretty strict and the number of free tablets is limited.
Free Tablet From Charities and Non-profit Organizations
In case you are unable to get a free tablet from the government, you can try to get one from a charity or non-profit organization. In this case, you will also have to apply for the free device and you will get it if the organization finds you eligible for the program.
How To Get Free Tablet From Government?
Every year the federal government provides some funds to help low-income people get a free tablet or a free phone. As these programs launch on specific dates, you must keep an eye on the dates so you don't miss an opportunity. As soon as the program launches, simply fill out the application form and cross your fingers.
Who Qualifies For Government Free Tablet?
There are three main qualification categories and general eligibility criteria, which apply for most states:
You can qualify through other federal government programs (if you are a member of an income-based government assistance program).
You can qualify due to some type of disability
You can qualify based on your total household income (if your current income is under 200% of the federal poverty level – relative to household size)
However, the eligibility criteria vary from state to state. As such, make sure to search for the requirements on the government's or organization's official website. Make sure to get all the required documents before submitting an application, as those applicants who provide all the necessary information and documents have a higher chance of getting the free tablet than those who don't.
It depends on the category through which you may be eligible, which documents you will be required to provide.
What Documents Are Necessary To Apply For Free Tablet?
As mentioned before, the exact documents you will be required to provide depend on your eligibility category. It also depends on the state and the organization, to which you are planning to apply. As such, it is best to check the organization's official website for more information about the exact eligibility criteria and the required documents.
Note that any proof of eligibility is subject to approval by the corresponding staff and additional documents may be required. Also, keep in mind that hand-written documents, screenshots, and other unreliable documents may not be accepted.
Documents required if you qualify through another federal government program:
Proof of current enrollment in a federal government assistance program, such as:
Adult & Child Mental Health Case Management
Employment Services (only if income-based in your state)
Extended Foster Care
Federal Pell Grant
Financial Assistance, such as GA, TANF, etc. (a dated letter showing current eligibility is required)
Food Support (a dated letter showing current eligibility is required)
Head Start
Low-Income Home Energy Assistance Program (LIHEAP)
Medicaid or Medical Assistance (bring a document that says "MA" or "Medical Assistance" on it)
Section 8, Federal Public Housing Assistance, or Group Residential Housing (GRH)
Social Security Disability (SSD)
Supplemental Security Income (SSI)
The National School Lunch Program's Free or Reduced Lunch Program
Documents required if you qualify through a disability:
Documentation from a government source proving any kind of disability.
Documents required if you qualify through income:
Documentation from a government source proving that your current income is under 200% of the federal poverty level, such as:
A retirement/pension statement of benefits
A Social Security statement of benefits
A Veteran Administration statement of benefits (VA cards alone are not accepted)
An Unemployment/Workmen's Compensation statement of benefits
Federal or tribal notice letter of participation in General Assistance
The prior year's state, federal, or tribal tax return (W2 forms or pay stubs are not acceptable)
General required documents:
A photo ID proof
Contact information
Eligibility proof document
Income proof or salary slip
Income proof or student information
Residence proof
How Do I Send Documentation?
How do you send the required documentation also depends on the organization, government institution, or Lifeline provider through which you apply. However, most institutions offer a dedicated website, where you can fill out the application form and attach any required documents. You may also be able to send additional documents via email, mail, or fax.
What Are The Benefits You Get After Qualifying For The Lifeline Program?
In case you qualify for a Lifeline or government assistance program, you will receive a high-quality tablet completely free of charge. Getting a free tablet has a long list of benefits, including the following:
You will be able to stay in touch with your loved ones through the many communication services offered by a tablet
You will be able to access information through the internet
You will have better education opportunities
You will have better job opportunities
You will be able to work remotely
You won't have to worry about the 'digital divide' – the gap between people who can afford access to digital technology and those who can't, as you will get access to the latest technology and improve your living standard
What Are The Best Companies That Offer Government Free Tablet?
You can either get a free government tablet through the government (Lifeline providers) or a charity or non-profit organization.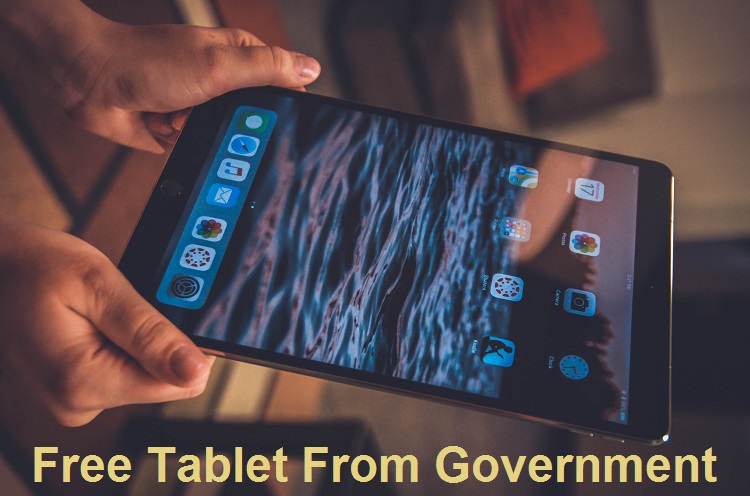 When it comes to Lifeline providers, Q Link Wireless is currently the provider that offers a new tablet for their Lifeline-eligible customers. In addition, the provider also offers cellular service with free data, free minutes, and free texts, plus the ability to bring your own phone and number. All you need to do to get a Q Link Wireless free government tablet is to sign up, get verified, and activate your service. You can sign up for a free government tablet at qlinkwireless.com. Note: Q Link tablets aren't completely free of charge, as they will charge Emergency Broadband Benefit-eligible customers $10.01 for the device.
Smartriverside offers free tablets and laptops to low-income people with the support of the government. It also cooperates with non-profit organizations. Their eligibility requirements vary from state to state. To get a free laptop from them, you must fill out the free notebook for low revenue program form.
Cty.Org is a national organization offering free and discounted tablets and laptops for low-income citizens. They are especially committed to helping students, parents, and teachers. They also offer free internet packages and software.
Everyoneon is a program available in almost 50 states. It is suitable for families with an annual income of less than $35000. They offer free refurbished tablets, laptops, internet services, and even free courses for the unemployed.
CTAC (Computer Technology Assistance Corps) is an organization, which offers financial aid and resources on how to get a free tablet or computer.
Freecycle is an online platform, where you can access free government laptop and tablet application forms. It is also a recycling community, which offers recycle devices and other products.
Causes is a federal company that provides refurbished devices to eligible applicants.
Microsoft Registered Refurbished also offers refurbished computers and other devices to low-income families and charities. You can apply with the free notebooks for low-income families application form.
World Computer Exchange offers free computers and internet access to young people in need with the support of the government, NGOs, libraries, and other institutions. People can use the devices in community settings. Simply apply and explain why you need a free device.
Adaptive.Org offers free PCs and tablets to students in need. However, to get the device, you must be ready to put in 10 hours of community service. They also provide help to low-income families, senior citizens, and disabled people.
Accelerated Schools Programs offer computers and tablets on loan. You will be required to pay a $100 deposit, which you will get back after returning the device in proper working condition. They are most focused on families with students to provide them a better education.
Computers For Learning is a company that distributes refurbished computers and tablets to schools, universities, and colleges. Give them a call or send them an email to check your eligibility.
Komputers 4 Kids is a volunteer application. Hey collect and refurbish old PCs and tablets and donate them to people in need.
The On It Foundation is available for residents of Florida. They provide free laptops, internet access, and training programs for low-income families.
Technology Assisting People In Need is an organization that offers free computers for low-income families, students, and disabled people in Ohio.
What Are The Best Free Government Tablets?
The brand and model of the tablet you may be able to receive from the government, a charity, or a non-profit organization, depends on the institution, state, and availability. Customers cannot receive exactly the device they would like to receive. The tablet you may receive could be new, refurbished, or pre-owned. However, most tablets come in proper working condition and with all the basic features, including a webcam, microphone, and Wi-Fi capability. Free government tablets also tend to come with an Intel Core processor, an i3 core chipset, an Android OS, 8 GB of RAM, 128 GB of internal memory, 512 GB of external memory, an 8 MP rear camera and a 5 MP front camera, a 12.3-inch and 10 point multi-touch display, a 5000 mAh Li-Ion battery, a SIM card, voice calling, 5G connectivity, and a warranty.
As the exact model of a free tablet you may receive depends on so many factors, there is no official list of potential devices. However, according to some sources, you are most likely to receive either a Lenovo, Acer, or Microsoft tablet or some of the following devices, which are rumored to be offered at Q Link Wireless:
2020 Apple iPad – Space Gray (8th generation)
Apple 12.9-inch iPad Pro 2021- Space Gray
Fire HD 10 Tablet + Amazon Standing Case (Sandstone White)
Lenovo Tab M10 Plus Tablet
LG G Pad 5 -4GB LTE Unlocked Tablet
New Microsoft Surface Go 2 – Platinum (Latest Model)
Samsung Galaxy Tab Active 2 8″ Ruggedized Tablet, Black
Samsung Galaxy Tab S7
How To Get Free Tablets For Low-Income Families From Charities And Non-profit Organizations?
In addition to getting a free tablet from the government, you can also get one from charities and non-profit organizations. Certain charities and non-profits may give away free tablets to their volunteers. They get free tablets and other used electronic devices from the stores and sometimes they distribute them between their staff members and volunteers.
Charities also offer free tablets to low-income people in need. Some of these charities operate locally, while some are national or even international. Some charities and non-profits may offer new tablets and laptops, however, most offer refurbished or pre-owned ones, depending on where they get the financial aid and how substantial it is.
Each charity and non-profit organization has its own criteria for applying. You must contact a specific non-profit or charity or search them online and apply for a free tablet. You can see the list of non-profit organizations and other institutions that provide free tablets in the ' What Are the Best Companies That Offer Government Free Tablet?' section.
Certain churches and religious groups and institutions also offer free tablets and other electronic devices for low-income families and students. Some of them raise funds by partnering with big corporations, such as Microsoft and Amazon.
Public libraries don't usually give away free electronic devices, however, you may get free access to a tablet or laptop and internet service there. As such, this is also an option you may wish to consider.
If all else fails, you can look online and you will be able to find some give-away contests (make sure the contest is legit) and online stores that offer refurbished and used devices at very low prices.
How To Fill Free Tablets For Low Income Families Application Form?
To apply for a free tablet, make sure to search for an organization that currently offers free devices. Most of these institutions offer online applications. While filling out the application, make sure to fill out the information correctly and attach all the required documents. Submit the application only after you have entered and provided all the necessary information and documents, as submitting an incomplete application or one that contains any kind of mistakes, may result in someone else getting a free tablet instead of you – there are limited amounts of devices, after all.
Try applying for both a government-free tablet and at a charity or non-profit organization. Until you get a tablet, you may also want to consider surfing the internet at a public library or purchasing a discounted device.
How Free Government Tablets Help Low-income People?
We have already listed some of the benefits of receiving a free tablet. However, in general, getting a free government tablet may help low-income people in two major ways:
It will improve the person's quality of life: Having a tablet will enable a low-income person to learn many things and access information that is available on the world wide web. A person will be able to enroll in a course, take online coaching, apply for jobs, work from home, get an education, apply for a scholarship, enroll in an education program, etc, and thus improve his or her chances for a better future.
It will give the person access to the latest technology: A tablet is the latest communication device – one that can even replace a smartphone. It allows people to communicate with each other regardless of where in the world they are located. You can call a person through a SIM card or through Wi-Fi. It enables people to have personal, professional, or educational conversations with each other and thus stay connected.
Free Tablets Related Others Thing You Should Know
Are Free Tablets Really Free?
Most of the listed institutions offer tablets completely free of charge, however, some will charge you a small amount of money. It depends on the provider, availability, your income, and other factors.
Are There Any Restrictions for Lifeline?
Yes. You can only get one free tablet and you must be Lifeline-eligible to receive it (you can apply if you participate in certain government assistance programs, if your household income is at or below 135% of the federal poverty line, or if you are currently unemployed). In addition, you cannot choose the product yourself, as it depends on the availability and you may need to respect certain other rules that vary between Lifeline providers.
Can I Upgrade My Government Free Tablet?
It depends on where you got your free tablet from in the first place. However, most charities and non-profits don't offer upgrades and other providers will almost certainly charge you for any possible upgrade.
Do Free Tablet Providers Offer Reliable Customer Care?
Again, depends on the provider. Official Lifeline providers do offer reliable customer care, which is usually available by phone, email, or online chat. Smaller charities, churches, and non-profits, on the other hand, generally don't offer customer care, but you can still contact them if you have any questions.
Can Seniors Get Free Tablet?
Yes, some of the mentioned providers also offer free tablets for senior citizens. To make sure, it is best to contact them and ask.