Today's article will be all about Qlink SIM card replacement. We will address all aspects of this process, which will enable you to take the right steps and confidently complete the replacement process.
By the end of the article, you will learn that the Qlink SIM card replacement process is rather simple and that you can relax and know that you will soon be able to enjoy your Qlink services.
In case you are not familiar with Qlink, let us tell you that Qlink or Q-Link Wireless is one of the leading providers of Lifeline, a free government benefit program that offers FREE cell phone service to eligible Americans. Qlink provides qualifying customers FREE monthly data, minutes, and unlimited texting. To attain these free benefits, you need to qualify based on regular Lifeline eligibility requirements – either based on low income or participation in one of the specific government-supported programs.
Do you want to learn more about Qlink free phone? Read one of our past articles. Also, refer to our government free phone guide.
What is a SIM Card?
Before we get into further details, it is very important that you all understand what a SIM card is.
The SIM (Subscriber Identity Module) card is a small smart card identified by its integrated circuit card identifier (ICCID) that connects you to a network-specific network (in our case to Qlink's services).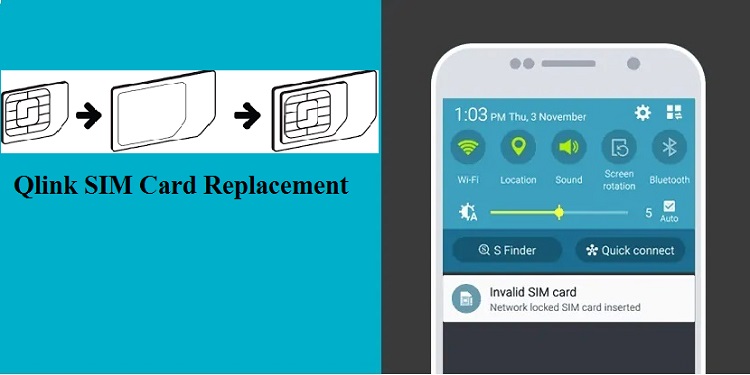 The card is inserted into your smartphone and stores all your data. In the past, DCMA phones didn't have SIM cards, only GSM ones did. However, since 2015, both systems shifted to 4G technology, which requires SIM cards. That shift also enables DCMA and GSM phones to be used with the same SIM cards.
Note: You may still use older (SIM-free) DCMA phones with Qlink, as long as you've verified their compatibility.
Qlink Lost or Stolen Phone
What is the most common reason for users to need Qlink SIM card replacement? You've guessed it, it's a lost or stolen phone.
You surely know that SIM cards are placed inside the phone, so if your phone that operates based on a Qlink SIM card gets lost or stolen, you are obviously also left without your SIM card. In order to continue using Qlink services, you will need to initiate Qlink SIM card replacement.
Note: Only Qlink Sim card replacement will take place in case you are using your own phone (phone not provided by Qlink). However, if you are also using a Qlink device, you will also need to request a replacement device. This option is very affordable and worth exploring.
So What Do You Need To Do If Your Phone With A Qlink SIM Card Got Stolen or Lost?
If your phone with the Qlink SIM card inside is lost, you can first try your best to locate the phone. Make sure to search your memory to remember where have you seen it last. If you are confident that it is misplaced, then take the proper actions to locate it.
However, if your phone is lost in a public space or perhaps even stolen, you need to take immediate action in order to prevent any unwanted costs. You need to call the Qlink Customer Service, which is available Monday-Friday, 8 am-12 am, as well as Saturday and Sunday 9 am-6 pm, EST, at 1-(855) 754-6543 and report that your phone is lost.
In case, you are highly convinced that your device was stolen, you are also encouraged to call the police and file a report. Keep in mind that phone theft is rather common and that police rarely manage to get the devices back on time, however, it does happen, especially, if they are able to use tracking to locate the device.
Note that Qlink will not credit or refund any account balance if you choose to terminate services as a result of loss or theft of your device. Moreover, you need to activate a new device within thirty (30) days from the date of notification, otherwise, your account may be deactivated.
What Next?
So, you have reported your phone was lost/stolen to the Qlink support, right? Great. That action enabled them to deactivate your SIM card and prevent any unwanted cost to be inflicted upon your account.
So, what next? As a Lifeline eligible customer, you have the right to continue enjoying the free services. As such, you have several options.
You can cancel your Qlink service and move to another Lifeline provider (only recommended if you were for some reason not satisfied with Qlink).
You can get a free Qlink phone (in case you've initially used your own phone and haven't yet used this benefit).
You can Bring Your Own Phone (BYOP) and use a new (replacement) Qlink SIM card.

In this case, you need to make sure that the phone is compatible with the Qlink services (compatibility check: qlinkwireless.com).

You will get a free Qlink SIM card replacement.

There will be no activation fee.

You will be able to keep your existing Qlink number.

You can get a replacement Qlink phone (in case you were using Qlink free phone already).

That option will cost you only $25 (it was $75 but is now highly discounted).

Aside from getting a brand new phone at a highly discounted price, you will also get an extra 1GB of free data.

For your convenience, you can order online or over the phone by calling 1-(855) 754-6543.
How do I Activate the Qlink SIM Card?
The Qlink SIM card activation is only relevant if you Brought Your Own Phone. In which case you need to follow the steps below.
Insert Your SIM Card. Follow Qlink's easy installation guide to see how. If you don't need a SIM card, continue to step 2.

Qlink's SIM card installation guide: If your phone is compatible with Q Link Wireless, you are eligible to Bring Your Own Phone to their network. If you need a SIM card, they will be happy to send you one at no cost. The SIM kit you receive should include your Q Link SIM card, 3 SIM card adapters (to turn a nano-SIM card into micro and standard size), and a SIM card eject tool.

First, you will need to turn off your phone and remove the SIM card currently in your phone. You can do so by using the SIM card-eject tool in your Q Link kit and pushing it into the small hole next to the tray. If you happen to misplace your eject tool, a paper clip will also work.
After removing your old SIM card, take out your Q Link SIM card. If you look closely there are 3 cut-out sizes of the SIM card.
Compare your old SIM card to the Q Link card to determine which of 3 cut-out SIM cards will be the correct size for your phone. Once determined, punch out the appropriate size. If you do not have a SIM card at all, you can search online to see which size SIM will fit your phone.
When you have figured out the correct SIM card size, place it into your phone and turn it on. Your SIM card is now installed!
Now that you have a Q Link SIM, you will need to perform a Network Reset to activate it.

Perform a Network Reset. Take the right steps according to your phone's OS and whether it is GSM or DCMA. (for very detailed instructions, visit: support.qlinkwireless.com)

iOS Network Reset (Manual) – for GSM & CDMA Phones:

Go to Settings > General and scroll down and tap Reset then tap Network Reset Settings.
If prompted, enter your iPhone password and confirm the reset.
Wait for the phone to complete the reset process.

iOS Network Reset (Automatically) – for CDMA Phones

From your home screen, tap the green phone icon.
Dial ##25327#and tap the green phone icon again.
Tap OK to start a service update then tap OK when completed.

Android Network Reset (Manually) – for GSM & CDMA Phones:

Go to Settings > Backup and Reset / General Management > Reset Network Settings > Reset.
If prompted, enter your password, and confirm the reset.
Wait for the phone to complete the reset process.
First, go to Settings > Mobile Data and ensure that Mobile Data is enabled. (This will vary depending on your Android phone. You may find it under Mobile Networks, Data Usage, or More)
Tap the switch OFF and then back ON. The color should change to Green.
Next, go to Settings > System Updates then tap Update Profile and wait for the process to complete.
Tap YES to any updates if prompted. Your phone will now restart.

Android Network Reset (Automatically) – for CDMA Phones:

From the home screen, tap the phone icon.
Dial ##72786#
Tap Yes.
Your phone should power OFF and back ON and then start configuring itself.
If prompted, tap Yes to accept any updates. (Once the updates are completed, the phone will restart again)

Get the My Mobile Account App. Download the My Mobile Account App for iPhone or Android and log in with your Qlink phone number.
Make a Test Call. Call 305-260-6232 to confirm your phone's activation.
Unless you have an outdated device, your smartphone uses a SIM card. In which case, you will need to enter that SIM card's number so Qlink can verify it. To find that number, check out Qlink's guides on how to find your SIM card number on your iPhone or Android
If your smartphone needs a new SIM card, Qlink will send you a free Qlink card kit (as mentioned above), ready to use. Just insert it into your smartphone and complete the above steps.
If your smartphone does not use a SIM and the phone is compatible, just follow these steps to get your smartphone activated (the same steps apply for Qlink phones, which don't have SIM cards):
Turn on Your New Phone
Get the My Mobile Account App. On Qlink new phones, you get to open the pre-installed My Mobile Account App and log in with your Q Link phone number.
Make a Test Call. Call 305-260-6232 to confirm your phone's activation.
How to Transfer a Qlink SIM Card to a New Phone?
What if you are using your Qlink SIM card with your old phone and decide to upgrade it? The process in this case is the same as if you were going through the BYOP process for the first time.
You need to make sure that the phone you plan on using is compatible with Qlink services.

Use this link to check the compatibility: https://qlinkwireless.com/byop.aspx

Insert the SIM card (follow the instructions given in the section above) and enjoy your service. Since your SIM card has already been activated, you do not need to do it again with your new phone.
What To Do If The Qlink SIM Card Is Not Working or Is Damaged?
If there are any issues with your Qlink SIM card or if it got damaged, you can request a replacement SIM card.
You will need to call Qlink support (use another phone since you cannot call using your damaged SIM), explain the issue, and they will provide you with the instructions.
The replacement SIM card will be provided to you free of charge. They will deactivate your previous SIM (the damaged one that is not working) and transfer your previous phone number (if that is what you want) to the new SIM card.
Upon receiving the replacement SIM card, you will need to go through the SIM insertion and activation steps provided in the 'How do I activate Qlink SIM card?' section again.
How to Set up Qlink Wireless APN settings?
Below are the instructions for Androids and iPhones.
Qlink Wireless APN settings for Androids (Go to Settings > More > Cellular/Mobile Network > Access Point Names > + ('add')):
Name: QLink
APN: cinet.spcs
Proxy: Not Set
Username: Not Set
Password: Not Set
MMSC: Not Set
MMS Proxy: Not Set
MMS Port: Not Set
MCC: 234
MNC: 15
Authentication Type: Not Set
APN Type: default
APN Protocol: Ipv4
APN roaming protocol: Ipv4
Enable/Disable APN: APN Enabled
Bearer: Unspecified
MVNO Type: None
MVNO Value: Not Set
Qlink Wireless APN settings for iPhones (Go to Settings > Cellular > Cellular Data Network > APN):
Cellular Data:

APN: cinet.spcs
Username: Blank
Password: Blank

LTE Setup (Optional):

APN: Blank
Username: Blank
Password: Blank

MMS:

APN: Blank
Username: Blank
Password: Blank
MMSC Proxy: Blank
MMS Proxy: Blank
MMS Message Size: 1048576
MMS UA Prof URL: http://www.apple.com/mms/uaprof.rdf
FAQs
Is the Qlink SIM card locked?
Phones can be locked but not SIM cards. All SIM cards, including Qlink's, can be used with other phones as long as those phones are not locked to another carrier and compatible with the given SIM card's services (in our case with Qlink).
However, all SIM cards can be locked with a PIN code. This is another kind of lock. Upon turning on or restarting the device, you may be prompted to enter the PIN code if the security settings are such.
What do we mean by 'Qlink network locked SIM card'?
This is a common misconception. Since there are Qlink network locked phones, many mistaken that for Qlink network locked SIM card, which is nonsense as all SIM cards are locked to a certain provider. For additional explanation see the answer above.
What is Qlink SIM unlock code?
This is the phrase that got stock to unlocking devices to that they may be used with other SIM cards. These codes do not unlock SIM cards but they unlock phones so that they work with other SIM cards. You will potentially deal with this code if you have a Qlink phone and decide to unlock it.
What is Qlink BYOP invalid SIM?
This means that you are trying to use a device and a SIM card that are not compatible. As mentioned above, SIM cards and phones need to be compatible. This issue is most common when phones that are not unlocked are trying to be used with other SIM cards.
Is Qlink CDMA or GSM?
Qlink services are compatible with both CDMA and GSM services (since the LTE introduction, both operate based on SIM cards). Qlink used to operate on Sprint's network, which was CDMA, however, Sprint was purchased by T-Mobile in 2020 and thus made the switch to GSM.
Where to order Qlink SIM card?
Qlink SIM cards can be orders online (after you've provided proper documentation and applied for the Lifeline support). You can Also call Qlink support and place your order via your phone.
Can I get a free Qlink SIM card with data and minutes?
Yes. All Lifeline eligible customers are entitled to free Qlink SIM cards that come with free monthly minutes, texts, and mobile data.
Wrapping Things Up
At this point, you are a semi-expert on Qlink SIM card replacement and thus confident enough to take the proper action steps, whether for yourself or to assist your friends or family.
In case you also need information about Qlink Wireless Phone Upgrade Guide devices, feel free to go through our past articles, which will provide you with all the details needed.
Stay safe and enjoy your Qlink services!