Why Choose Standup Wireless Compatible Phones?
As you may know, Standup Wireless is one of the highly reputable Lifeline Assistance providers. This means that eligible households can get free mobile phone service plans.
The above is a good reason to consider Standup Wireless compatible phones as they will enable you to become a part of their network and enjoy free minutes, texts, and mobile data.
Standup Wireless offers very generous plans with a very decent amount of free data. They also offer good coverage, very reliable services, and helpful customer support.
When it comes to Standup Wireless compatible phones, you have two options. You can either bring your own phone or purchase a device from StandUp.
When it comes to bringing your own phone, make sure to read carefully the section below in order to ensure that your device is compatible.
If you decide to purchase a phone from Standup Wireless, you need to set up your account, then visit their Purchase Device page (myaccount.standupwireless.com/shop/phones), where you select a phone, and complete the checkout.
How Do I Check My Phone's Compatibility With Standup Wireless?
If you want to make use of the Standup Wireless's Bring Your Own Phone (BYOP) option, you need to make sure that the phone you plan on using with their services is compatible.
Luckily, it is very easy to check compatibility – you can do it online. Simply visit the Standup Wireless official website. In the top section, you will see the 'Check Phone' button. Click it.
On the next page, you will see a prompt box, where you are supposed to enter your phone's IMEI number. If you need help with locating your devices IME number, follow the on-site instructions.
Once you have the number ready, enter it, confirm the 'I'm not a robot' option, and click the 'Check Device' to learn if your phone is compatible.
Standup Wireless Compatible Phones List
Standup Wireless provides potential users with a list of compatible phones. These are by no means all devices that may be used with their services, however, this serves as a solid guideline. In general, all unlocked devices that pass the above compatibility check should work with Standup.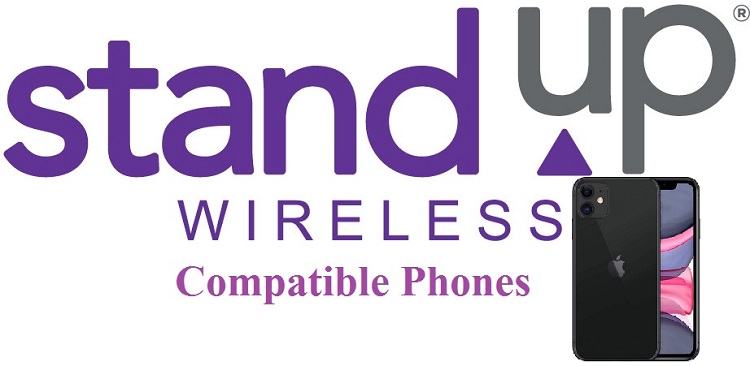 For your convenience, we've divided that list into Android devices, iPhones, and flip phones.
Standup Wireless Compatible Android Phones
Google Pixel 4
Google Pixel 4 XL
Pixel 3
Pixel 3 XL
Pixel 3a
Pixel 3a XL
LG Stylo™ 6
LG K51™
LG K40™
LG Aristo® 4+
LG Aristo™ 2 PLUS
LG G7 ThinQ™
LG G8 ThinQ™
LG K30™
LG Q7+™
LG Stylo™ 4
LG Stylo™ 5
LG V30™
LG V40 ThinQ™
Motorola moto e5 plus
Motorola moto e5 play
Samsung Galaxy S9
Samsung Galaxy S9 plus
Samsung Galaxy Note8
Samsung Galaxy Note9
Samsung Galaxy S8
Samsung Galaxy S8 Active
Samsung Galaxy J3 Prime
Samsung Galaxy J3 Star
Samsung Galaxy J7 Prime
Samsung Galaxy J7 Star
Standup Wireless Compatible iPhones
Apple iPhone XR
Apple iPhone XS
Apple iPhone XS Max
Apple iPhone X
Apple iPhone 8
Apple iPhone 8 Plus
Apple iPhone 7
Apple iPhone 7 Plus
Apple iPhone 6s Plus
Apple iPhone 6s – Certified Pre-Owned
Apple iPhone SE
Standup Wireless Compatible Flip Phones
Standup Wireless Compatible Plans
At this point, you already know that Standup Wireless is focused on provided services to Lifeline-eligible customers. This means that Standup Wireless compatible plans are fully devoted to Lifeline.
As a matter of fact, they only offer one plan, which comes with an unlimited amount of free minutes, texts, and a very generous 4.5GB of data.
Comparing this plan to other free Lifeline plans offered by other Lifeline-focused carriers, we can tell you that this is a great deal.
What Other Carriers Are Compatible With Standup Wireless Phones?
If you decide to purchase a new phone from Standup Wireless, it comes locked to its network. However, there is an unlocking policy set in place that enables users to get their devices unlocked once the conditions are met.
With an unlocked phone on your hands, you can easily use it with any other carrier that offers a BYOP option. Of course, you need to check the compatibility with that carrier before you can know for sure whether your Standup Wireless phone is suitable for that network.
What Are The Standup Wireless Compatible Phones Replacement Terms?
If you are to bring your own phone and use it with Standup Wireless service, they have no involvement with that device. Of course, you can request and attain a free replacement SIM card in case that you lose that device or it gets stolen with their SIM card inside.
On the other hand, if you purchase a device from Standup Wireless, you are eligible for replacement as long as the phone and the issue with it are covered by the warranty. Keep in mind that any damage inflicted by a user, lost, or stolen device is not covered by the warranty.
If you are in need of a replacement SIM card kit or phone, make sure to call Standup Wireless support immediately at 1-800-544-4441.
Standup Wireless Others Thing You Should Know
How is the Standup Wireless coverage?
Standup Wireless has very good coverage. They also offer 5G. The simplest way to check coverage is to visit standupwireless.com/lifeline/coverage where you enter your zip code and click the 'GO!' button.
In which states can you get Standup Wireless?
Standup Wireless is often expanding its services, so it is highly recommended to get in touch with their customer support to attain the latest data. Currently, they offer their services in Minnesota, Utah, Wisconsin, West Virginia, Puerto Rico, Kentucky, Arkansas, Colorado, Georgia, Arizona, Carolina, Louisiana, Missouri, Maryland, Massachusetts, Michigan, Nebraska, Ohio, Iowa, and Pennsylvania.
Does the government provide Standup Wireless compatible phones?
The government does not provide free phones. This is a myth. The government provides compensation of $9.25 towards monthly telecommunication bills for Lifeline eligible households. However, many Lifeline-focused carriers decided to offer free plans and even free devices to further sweeten the deal.
Standup Wireless is not one of those carriers, as they do not offer free devices.
Are Standup Wireless phones unlocked?
No. Phones purchased from Standup Wireless come locked to their network. Though, they do have an unlocking policy set in place, which enables users to get their phones unlocked once certain conditions have been met.
Can I upgrade Standup Wireless compatible phone?
Yes, you can upgrade your Standup Wireless compatible phone at any time. This can be done by either purchasing a new compatible device elsewhere or go with one of the phones offered by Standup Wireless.
Can you use bring your own phone with Standup Wireless?
Yes. Standup Wireless has its own bring your own phone option set in place, which enables users to use their existing devices with Standup's great Lifeline plans.
What is Standup Wireless customer service?
They are available via phone at 1-800-544-4441 (Mon – Sat : 8:00 AM to 10:00 PM ET & Mon – Sat : 5:00 AM to 7:00 PM PT). You can also email their support at [email protected].
Is Standup Wireless CDMA or GSM?
Standup Wireless operates on GSM technology.