Assurance Wireless is one of the leading Lifeline providers. They focus on serving those eligible for free government phones and services.
Since we've noticed that many people want to know what network does Assurance Wireless use, we decided to dedicate today's article to this topic. We will cover all the details in the following sections.
You learn what network does Assurance Wireless use, how good is their coverage, how reliable are their services, and more.
Are you ready to dig in? Let's do this.
What Network Towers Does Assurance Wireless Use?
Due to various mergers and acquisitions, Assurance Wireless switched between various networks in the past. They've been operating on Sprint's towers for a while. However, back in 2020, Sprint and also Assurance Wireless was bought by T-Mobile.
For now, their services continue to operate on Sprint's network, though the transition to T-Mobile towers is expected to take place rather sooner than later. For instance, new users cannot use 3G-only devices as of 2019.
In case you also need information Assurance Wireless Phone With Activation
How Good Is The Assurance Wireless Network Tower?
Actually, there are no Assurance Wireless signal towers. If you covered the above section, you know that Assurance Wireless uses Sprints and T-Mobiles towers.
Both Sprint network and T-Mobile signal towers are two of the best in the country. The fact that there are many other MVNO carriers using their infrastructure speaks for itself.
Based on the available information (there is always some subjectivity present), T-Mobile has one of the most up-to-date towers and maintains them on regular basis. T-Mobile is also the one with an extremely fast-growing 5G network.
All-in-all Assurance Wireless signal towers are of high quality and thus offer very good reliability.
If you need information Assurance Wireless Replacement Phone Visit How To Replace Assurance Wireless Phone
Assurance Wireless Coverage Area
Despite the fact that it operates on one of the country's largest networks, Assurance Wireless service is not available in all states/areas and may vary by state. You read that correctly. Unfortunately, its coverage is not available everywhere.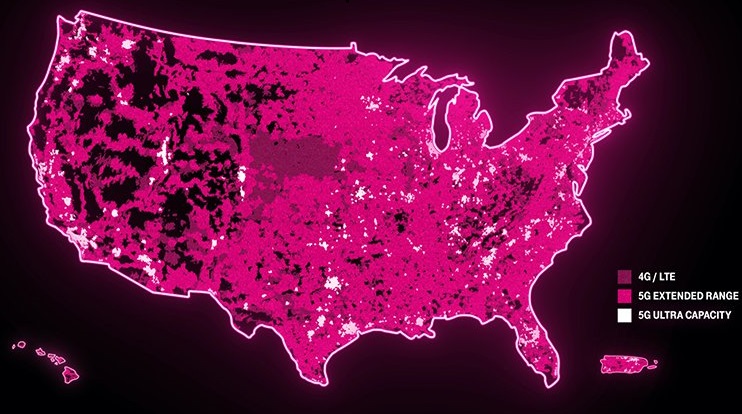 You can view the coverage map on Assurance Wireless's official website for a detailed map and check if service is available in your area. Here is also a link to make things easier for you: coverage.assurancewireless.com/t-mobile.html.
In case you are not able to use the map via the above link or find the result confusing, feel free to reach out to Assurance Wireless' customer support for further assistance and detailed information regarding the availability in your specific region.
How does Assurance Wireless Coverage Compare To Other Carriers?
Since Assurance Wireless operates on T-Mobiles and Sprint's network, it has access to one of the best coverage. Compared to other Lifeline carriers, it is among the best options. Unless you are located in a very remote place, you have a very high chance of having Assurance Wireless coverage available in your area.
To check if your area is covered or not, use the link in the previous section.
Of course, there are MVNO carriers that use multiple leading wireless providers' networks, which enables them to have even better coverage. Though, some of such carriers require users to get specific SIM card types, which means that once users select their specific SIM card, they are still limited to a single carrier's network.
Is The Assurance Wireless Network Reliable? How Reliable?
Assurance Wireless network is highly reliable. Operating on such a reputable network as T-Mobile is, a very high level of reliability is ensured. However, it is important to note that T-Mobile's direct users have priority on occasions when the network is very busy. This means that the highest data speeds will not be available to MVNO users.
What Other Carriers Use the Same Network Towers?
There are quite many MVNO carriers that use T-Mobile/Sprint towers. Some use them exclusively while others use them in combination with other leading providers, including AT&T and Verizon.
Here is a list of MVNOs that operate on T-Mobile towers:
Consumer Cellular
Metro by T-Mobile
Mint Mobile
Net10
Google Fi
Red Rocket
Republic Wireless
Simple Mobile
Straight Talk
Ting
TracFone
Ultra Mobile
US Mobile
Gen Mobile
TextNow
Wing
Which Network Device Does Assurance Wireless Use? GSM or CDMA?
At the moment Assurance Wireless is in a sort of transition. After T-Mobile purchased Sprint, Sprint's towers are slowly being put out of use and their services transitioned to T-Mobil. However, there are still Sprint towers being used.
And since the Sprint network was CDMA based, CDMA devices use the old Sprint network, while GSM devices use T-Mobile towers.
Moreover, 3G devices are being put out of use and thus only 4G and 5G devices will soon be in operation. And those devices are interchangeable between CDMA and GSM networks.
Read one of our past articles Assurance Wireless Compatible Phones
Does Assurance Wireless Have Any Plans That Use Others Network?
All Assurance Wireless plans are very similar and are fully focused on serving Lifeline-eligible households. Moreover, all plans operate on T-Mobile's and Sprint's signal towers.
As explained above, since T-Mobile purchased Sprint back in 2020 there is still some transitional period in which Sprint's older (mainly 3G) signal towers are used. However, official these are also T-Mobile's.
There is no other network on which Assurance Wireless operates.
Assurance Wireless Network Towers Pros & Cons
The main benefits of Assurance Wireless network towers come with the fact that it operates on T-Mobile's network, which is one of the largest and wealthiest carriers. As such, the network is well maintained and well spread, which means it offers a high level of coverage.
The main downside of Assurance Wireless' network towers is the fact that as one of MVNOs on T-Mobile's network they are the ones that lose access to high-speed connections when an increased number of users connect to the same tower. On average days this is not an issue, however, in the case of larger events, when a greater number of people is located in smaller areas, this can be a problem.
You can read one of our past articles Assurance Wireless Upgrade Phones
FAQs
Why switch to Assurance Wireless if you are happy with another carrier?
If you are a Lifeline-eligible client and are satisfied with your current carrier, it definitely makes no sense to switch to Assurance Wireless. However, if you are looking to transfer your service, then Assurance Wireless should definitely be on your watch list.
What bands does Assurance Wireless use?
Assurance Wireless offers mobile broadband internet access services for a smartphone over T-Mobile's signal towers. These include 2G, 3G, 4G, and 5G networks. Though 2G and 3G options are slowly being put out of use and are no longer available to new customers.
What type of services does Assurance Wireless provide?
Assurance Wireless is an MVNO carrier, which means it offers mobile service while using another carrier's network (in this case T-Mobile's). They are focused on serving Lifeline-eligible clients by offering them free devices and free monthly plans.
What is Assurance Wireless customer service contact?
If you need help or have any specific questions, you may get in touch with the Assurance Wireless customer service by calling them at 1-888-321-5880.
Is Assurance Wireless good?
Assurance Wireless is one of the most popular Lifeline carriers. It offers solid services on a reliable network. Their free phones are quite impressive and their free plans come with a decent amount of minutes, texts, and data.
What carrier does Assurance Wireless use?
Assurance Wireless uses T-Mobile's network.