Mint Mobile is a Mobile Virtual Network Operator (MVNO), which means it uses another carrier's towers. Their key advantage is extremely affordable prices, starting at as low as $15 per month, which enables users to save a ton of money on their wireless bill.
Aside from affordability, Mint mobile is also all about simplicity. Users simply choose among various plans, mainly differing in the amount of monthly mobile data, activate their services, and enjoy being connected.
Moreover, Mint Mobile also offers a Bring Your Own Phone (BYOP) option, which means they enable users to use their existing phones with their services.
As an interesting fact, users may also like the fact the Mr. Deadpool (actor Ryan Reynolds) is one of the Mint Mobile owners. For Deadpool fans, this may definitely be a plus.
What Network Towers Does Mint Mobile Use?
As explained above, Mint Mobile is MVNO, which means they do not have their own network of mobile towers. They operate on T-Mobile's grid, which has one of the largest and most reputable infrastructures in the USA.
With Mint Mobile you get to enjoy T-Mobile's network and all its perks at highly affordable prices.
How Good Are The Mint Mobile Network Towers?
By this point, you know that Mint Mobile doesn't have its own network. It actually operates on T-Mobile's towers. As such, Mint Mobile network towers are identical to those used by T-Mobile. And since we all know that T-Mobile has one of the largest quality standards applied into their network, Mint Mobile gets to enjoy that quality.
With that said, Mint Mobile network towers, or should we say T-Mobile towers are very good. They are regularly updated to meet the latest standards. The towers are also properly maintained to ensure that the services operate as smoothly as possible.
Mint Mobile Coverage Area
Since Mint Mobile operates on T-Mobile towers it offers the same coverage as T-Mobile. Their 4G LTE network coverage I just slightly behind AT&T with 68% coverage and Verizon at 70%, T-Mobile covers 62% of the country.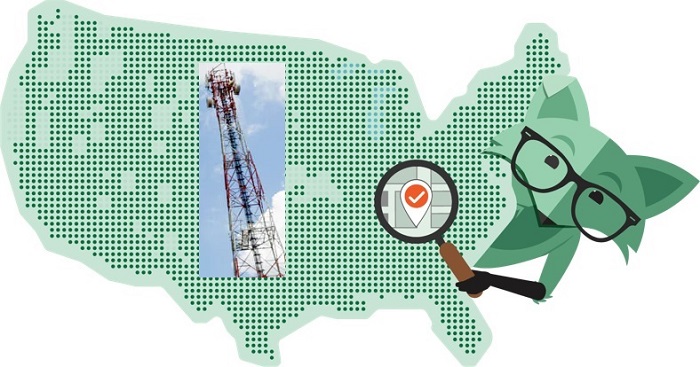 With that in mind, users in and around urban areas can expect great coverage. On the other hand, people living in rural areas may not be covered. If you are residing in rural America, you should definitely check the coverage before purchasing any plans.
Moreover, T-Mobile also offers rather impressive 5G coverage, which is also accessible to Mint Mobile users, at least to those that have phones that support 5G.
How Mint Mobile Coverage Can Compare To Other Networks
Mint Mobile operates on T-Mobile's network towers. And, even if you are not at all familiar with wireless providers, you surely know that T-Mobile is one of the biggest and most reputable mobile companies, not only in the USA but all across the globe.
Looking at the previous section, one can see that T-Mobile has the third-largest coverage, which means that Mint Mobile also has the third-largest coverage as it benefits from T-Mobile's infrastructure.
It is worth pointing out that T-Mobile offers one the best 5G coverage, currently covering 37% of the country. As far as the 5G coverage goes, T-Mobile offers the most expensive network and is way ahead of competitors. For instance, AT&T and Verizon bot cover less than 10% of the country.
Is The Mint Mobile Network Reliable? How Reliable?
Since Mint Mobile users T-Mobile's network towers, we cannot discuss Mint Mobile's reliability without looking at T-Mobile's. Based on the reports, user experience, and analysis, T-Mobile offers highly reliable services, with an extremely low rate of interruptions and congestion.
Mint Mobile users get to enjoy the same reliability though with some limitations. You see, T-Mobile prioritizes its original users (people that have T-Mobile plans) in case of increased congestion. This means that faster data speeds will not be accessible to Mint Mobile users in case there is a high sudden increase.
In case you also need information How To Activate Mint Mobile Easily
What Other Carriers Use The Same Network Towers?
There are many MVNO carriers in the USA that also operate on T-Mobile's towers. In some cases, they use T-Mobile towers alone, while in others they use T-Mobile towers in combination with other larger carrier networks.
Here is a list of MVNO wireless providers operating on T-Mobile:
Consumer Cellular
Metro By T-Mobile
Net10
Google Fi
Red Rocket
Republic Wireless
Simple Mobile
Straight Talk
Ting
TracFone
Ultra Mobile
US Mobile
Gen Mobile
TextNow
Wing
Which Network Device Does Mint Mobile Use? GSM or CDMA?
T-Mobile network uses GSM technology, which means that Mint Mobile focuses on GSM devices. However, since 2015 GSM and CDMA phones all use SIM cards, which means that both types of technology may be used interchangeably on GSM and CDMA networks as long as the compatibility is confirmed.
This gives users that are looking into the BYOP option a much wider selection of devices. If you are interested in bringing your existing device to Mint Mobile, make sure to visit their official website. Once on the site, hover over the 'Phones' option in the top menu bar and click the 'Bring Your Own' option.
Once on the next page, scroll down slightly in order to see the compatibility check instruction. Use those instructions and complete the process.
Read one of our past articles What Network Does Q Link Wireless Use
Does Mint Mobile Have Any Plans That Use Others Network?
No. Mint Mobile operates only on the T-Mobile network. All their plans are thus limited to their SIM cards that are designed to operate on the T-Mobile network.
What Are Mint Mobile Network Towers Pros and Cons?
If you went through all of the sections above, you already know what are the main advantages and disadvantages of Mint Mobile network towers and their services. However, to make things as straightforward for you as possible, we decided to highlight the main pros and cons below.
Main Pros
Very affordable plans
Very simple and easy to use the online dashboard
Affordable international calling rates
Optional risk-free trial
Kind and efficient customer support
Great coverage, including 5G
Impressive value for money
Great speeds (when there is no congestion on the network)
Main Cons
In case of congestion, data speed will be limited
There are no local Mint Mobile stores (only online store)
The highest savings are offered in the case of bulk purchases, which requires much higher upfront costs
FAQs
Why switch to Mint Mobile if you are happy with another carrier?
One of the main reasons to switch over to Mint Mobile is definitely its affordable prices. However, if you are really completely satisfied with your current provider, including with the price you pay, then you may want to stay put as there is always some work and time required to switch the carrier.
What bands does Mint Mobile use?
Mint Mobile offers new phones from all the leading brands, including Apple, Samsung, Google, Motorola, LG, OnePlus, TCL, Nokia, Alcatel, and Coolpad.
Aside from new phones, Mint Mobile also has a Bring Your Own Phone option set in place.
What type of services does Mint Mobile provide?
Mint Mobile provides a selection of affordable prepaid plans. All their plans include unlimited talk & text but vary by the amount of mobile data included. The most affordable plan comes with 4BG of data, while their new plan also offers unlimited data.
In order to get the most affordable prices, users need to pay multiple months in advance (3-month renewal option).
What is Mint Mobile Customer Service?
If you are looking to get in touch with Mint Mobile customer service, you can call them at 800-683-7392. If you prefer to type, you may also chat with their customer support by visiting their official website and clicking the speech bubble icon in the bottom-right corner. You can chat with their Fox Bot 24/7, or with a human 7 days a week from 5 am to 7 pm PST.
Is Mint Mobile good?
Mint Mobile's top priority is affordability and this is where they get it right. Their services are reliable thanks to T-Mobile's network. On top of that, they also offer friendly and effective customer support. All-in-all Mint Mobile is a good carrier.
You can read one of our past articles How Long Does Cell Phone Last
What carrier does Mint Mobile use?
Mint Mobile is an MVNO carrier, which means it doesn't have its own signal towers. It operates on T-Mobiles infrastructure.