What is Xfinity Mobile?
Xfinity Mobile is a no-contract postpaid phone service and affordable wireless network available to Comcast internet customers. It is a mobile virtual network operator (MVNO) launched in 2017 and it is owned and operated by Comcast. As they don't have their own cellular network towers, they use Verizon's towers and 5G network with supplemental coverage provided by Xfinity Wi-Fi hotspots. The company offers a large variety of advanced mobile devices that can be configured to automatically connect to Comcast Wi-Fi hotspots to provide data, affordable 'Unlimited' and 'By the Gig' plans that come with 5G data, nationwide coverage with priority access (which means that Xfinity Mobile customers get higher data speeds in times of congestion compared to other Verizon MVNOs), multi-line discounts, and other smart devices, accessories, services, and special deals. With Xfinity Mobile, it's all about bundling, therefore you are only eligible for Xfinity Mobile if Comcast is or will be your internet service provider.
Xfinity Voice is Xfinity's digital landline phone service, also known as VoIP (Voice over Internet Protocol). It takes your home phone service online and carries the service over the internet instead of traditional telephone lines. VoIP service offers remarkable call clarity and other amazing features, such as three-way calling and voicemail-to-text messaging and it requires an internet connection. To use it, you can rent an Xfinity Gateway or buy your own compatible modem and router.
Xfinity Voice Minimum Equipment Requirements
In order to use the Xfinity Voice service, you need two basic things – a telephone handset and electrical outlets. You can connect inside wiring and jack to provide phone service throughout a residence or you can connect the phone handset directly to a Comcast Wireless Gateway device. In case you are using your own modem, make sure it works with Xfinity Voice service by visiting https://mydeviceinfo.xfinity.com/.
The required equipment must meet the required standards.
1. Phone handset
Your phone handset must comply with FCC Part 68 rules and regulations, have an industry-standard ring equivalence number (REN) of 1.0 or less, be in good working condition, and support touch-tone (DTMF) dialing.
2. Electrical outlets used with a digital voice modem
They must be installed and operated in compliance with your current local, state, and national codes, have at least 15 amps of circuitry capacity, not be a switch outlet (except for a circuit breaker), and not be shared with more device that can be safely powered on the circuit.
3. Inside wiring and jack used with Xfinity Voice service
They must comply with current industry standards for telephone service wiring, be in good working condition, and have consistent and proper wiring polarity.
4. Phone splitters
Phone splitters must be used in order to connect more than one corded phone or wireless base unit directly to the modem or to connect a phone and modem or wireless gateway to the same wall jack.
All equipment must comply with all other applicable, FCC, local, state, and national codes.
The Top 6 Best Phones Compatible with Xfinity Voice
As the first and most important part of the equipment required to use Xfinity Voice is the phone, it is important to choose the best one. Here is a list of the top 6 best phones that are not only compatible with Xfinity Voice, but are also designed to boost its functionality.
1. VTech – CS6114 DECT 6.0 Digital Cordless Phone with Caller ID/Call Waiting – White
This is a high-quality home phone from Vtech. It comes with caller ID, a dial-back feature designed to provide an easier calling method, and the capacity to store up to 30 contacts. It has a sleek yet durable design with a backlit keypad and LCD display, which enables easy dialing even in darker conditions. The manufacturer promises interference-free crystal-clear calls and the users tend to confirm it. The device comes with many convenient features, including volume control, call-waiting, caller ID, and the ability to show new messages. However, the phone lacks a speakerphone or Bluetooth, there are no available expansions or extra phones to be added onto the system, and it doesn't feature an in-built answering system (it must be purchased additionally).
2. Panasonic Comfort Cordless Telephone with Digital Answering Machine 2 Handsets – White (KX-TGD532W)
Panasonic is a reputable phone manufacturer and this device meets and exceeds all of our expectations. The phone includes two phones with a main and an extension base and it enables the user to permanently block up to 150 spam callers using a single dedicated button. It features an LED backlight, a screen displaying the time, an AC power adapter, and an owner's manual. It has a light (1.8-pound) and versatile design that enables you to mount it on the wall. It comes with the capacity to store and quick dial up to 100 contacts, a bilingual caller ID, and a quick-read message counter. If purchased at Target, it also comes with the option of a two-year protection plan. In case you are planning to place the extension unit far away from the base unit, you may need to buy a range extender.
3. Panasonic DECT 6.0 Plus Cordless Phone System (KX-TGC222S) with Answering Machine – Silver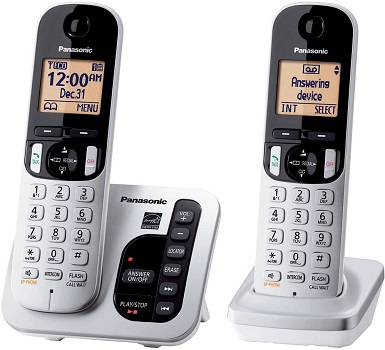 This reliable landline phone from Panasonic comes with two cordless phones and two separate charging bases, which enables the user to make calls from different locations. It comes with a built-in answering machine that allows you to see who called while you were away, large backlit keys, a line-in-use indicator, and a speakerphone. It also features anonymous call rejection, which disconnects any caller with a hidden number.
4. VTech CS5119-2 DECT 6.0 Expandable Cordless Phone – 2 Handsets
This is another quality device from Vtech, designed to provide a crystal-clear interference-free sound, and all the other features you may possibly need. It has a user-friendly interface and a sleek design with blue compliments. The device features intercom and call transfer, which allows you to call to another room and hand off a call, a caller ID, call waiting, a speakerphone, and the capacity to speed dial and store up to 50 contacts. It has two handsets and the ability to be mounted.
5. Panasonic KX-TG6572R
The first thing you may notice about this phone is its elegant non-slip red design. It has a wide range and a lowered power consumption when used within a certain distance from the base charger. The system can be expanded to up to 6 handsets in addition to the main base. Some of its features include a talking caller ID, Push-To-Talk for calls, silent mode, a digital answering system, up to four-way conference call ability, a single dedicated button to block unwanted calls, and HD audio.
6. Panasonic Cordless Phone with Link to Cell and Digital Answering Machine, 3 Handsets – Black (KX-TGE663B)
This landline cordless device from Panasonic features a base unit and two extensions – a total of three usable phones, which provide more location flexibility. It comes with a digital answering machine, a dual keypad, and the ability to block up to 250 telemarketers with a single dedicated button featured on all the bases. It also offers the ability to block your name and number on the receiver's phone.
In case you also need information Free Government Landline Phone Service
What are the Xfinity Voice Plans
You can either get Xfinity Voice as a standalone service or as a part of a bundle with internet and TV.
Xfinity Voice standalone plans
Xfinity Voice Unlimited Select. This basic landline plan offers internet connection, crystal clear audio, and unlimited calls for $30 a month.
Xfinity Voice Unlimited. This is the upgraded plan that offers the same service as the basic plan, but for the additional $14.95 a month, it also provides international call options with unlimited calls to Canada, China, Hong Kong, India, Mexico, Puerto Rico, Singapore, and South Korea.
Xfinity Voice plus internet and TV plans
X1 Saver Pro+ Triple Play. This plan comes with over 140 channels, up to 300 Mbps of download speed, and costs $104.99 a month.
X1 Starter Pro+ Triple Play. This plan comes with over 140 channels and up to 600 Mbps of download speed. It costs $114.00 a month.
X1 Preferred Pro+ Triple Play. It comes with more than 220 channels and offers up to 1000 Mbps of download speed. The price is $139.99 a month.
X1 Premier Pro+ Triple Play. The plan offers over 260 channels and up to 1000 Mbps of download speed for $159.99 a month.
How to Set up Xfinity Voice
The Xfinity Voice setup is quick and simple. To set it up, you will need an Embedded Multimedia Terminal Adapter telephony modem, which is actually a combination of a cable modem and a telephone adapter. If you have a compatible EMTA modem, you don't have to use a wireless gateway. In case you wish to set up Xfinity Voice on a cordless landline phone, you can plug a cordless phone main base unit into the back of your modem.
Xfinity Voice Troubleshooting Tips
If you have set up your Xfinity Voice but you have no dial tone, first, make sure that the phone is on the hook and that you charged it in case it has cordless phone batteries.
In case, this doesn't help, plug the working corded phone into different jacks to determine whether the problem seems to be in the phone or the jack.
Plug the landline into your Xfinity Voice modem to determine if the problem lies in your home's wiring.
When you make a call, make sure to dial '1' before the area code and follow Xfinity guidelines for international calls. For calls to a country outside of the North American Numbering Plan (NANP), dial 011, add the county code, and finally the phone number. If you have trouble connecting a call, dial 0 or 00. For calls to an area inside of the North American Numbering Plan (NANP), such as Canada, dial 011, add the area code, and the number.
If the issue persists, make sure your phone is not incompatible with Xfinity Voice. You can see a list of incompatible devices in the next chapter.
Which Equipment is Incompatible with Xfinity Voice
While most equipment should work perfectly well with Xfinity Voice, some products are incompatible with the service and have a high probability of errors. The incompatible equipment includes:
Incompatible telephones:
Bang & Olufsen: BeoCom 1
Bang & Olufsen: Beocom 2
Bang & Olufsen: BeoCom 4
Bang & Olufsen: BeoCom 5
Bang & Olufsen: BeoCom 1401
Southwestern Bell GH4102
Incompatible fax machines:
Incompatible telephone/caller ID units:
AT&T 5830
AT&T E2727B 2.4 GHz Dual Handset Answering System with Caller ID and Call Waiting
GE 21018GE3
GE 21028GE3 (with answering machine)
GE 25838GE3-A
Memorex MPH3388
Motorola MD700 Series
Motorola MD751
Motorola MD761 (with answering machine)
MD70
Uniden DXAI5188-2 (with answering machine)
Uniden EXI5160
Uniden DXI 386-2
Note: CIDCW (caller ID with call waiting) functions properly, however, the user may hear additional tones and signals after hearing the call waiting indicator tone, which is normal for some Uniden phone models, including Uniden DXAI5188-2 (with answering machine), Uniden EXI5160, and Uniden DXI 386-2.
While these devices are most often incompatible with Xfinity Voice, there may also be some other products that won't work with this service.
FAQ
Is Xfinity Voice good?
As a digital VoIP landline phone service, it offers amazing audio clarity and many advanced features, such as three-way calling and voicemail-to-text messaging. It's a great addition to your Xfinity internet service, plus it allows the user to cancel the service any time, as it comes with no annual contract. Considering all of this, Xfinity Voice is a great landline phone option.
What are the pros and cons of Xfinity Voice?
Pros: It provides clear, digital audio, it offers 12 cloud-based features, and advanced options, such as three-way calling and voicemail-to-text messaging.
Cons: It depends on electricity and internet connection, and it is a bit expensive.
What's the difference between a regular landline phone and an Xfinity Voice VoIP phone?
Regular analog landline phone service is delivered over copper wires and controlled by telephone companies. VoIP digital phone service, on the other hand, is transmitted as data over the internet and isn't controlled by phone companies. Another difference is that VoIP phone service provides higher-quality audio and a large selection of cloud-based features. Regular phone service doesn't require an internet connection or electricity, while VoIP service won't work if there is no internet connection or if there's a power outage.
Is Xfinity Mobile 5G?
Yes, as of 2020, when Verizon 5G network launched and Xfinity Mobile 5G service went live, 5G data speeds are included in regularly priced Xfinity Mobile plans without an extra charge. As such, not only does Xfinity Mobile offer 5G speeds, but these high speeds are also way more affordable at Xfinity Mobile than at Verizon. However, in order to get 5G speeds, you must have a 5G-ready phone and you must be located in an area where Verizon has installed this high-speed service (not all of the country has access to 5G).